Please note that Dojo, Guru, and Sensei pricing packages are currently unavailable. For more information on available packages please visit the package comparison page.  Also, check out our remote Online Data Science Certificate Program.
What you receive during and post-bootcamp depends on which pricing package you purchase. For most of our training programs, we have 3 standard pricing packages: Dojo, Guru, and Sensei.
To view more about each location's pricing packages you can always search at:
https://datasciencedojo.com/locations/NAMEOFLOCATION/#pricing/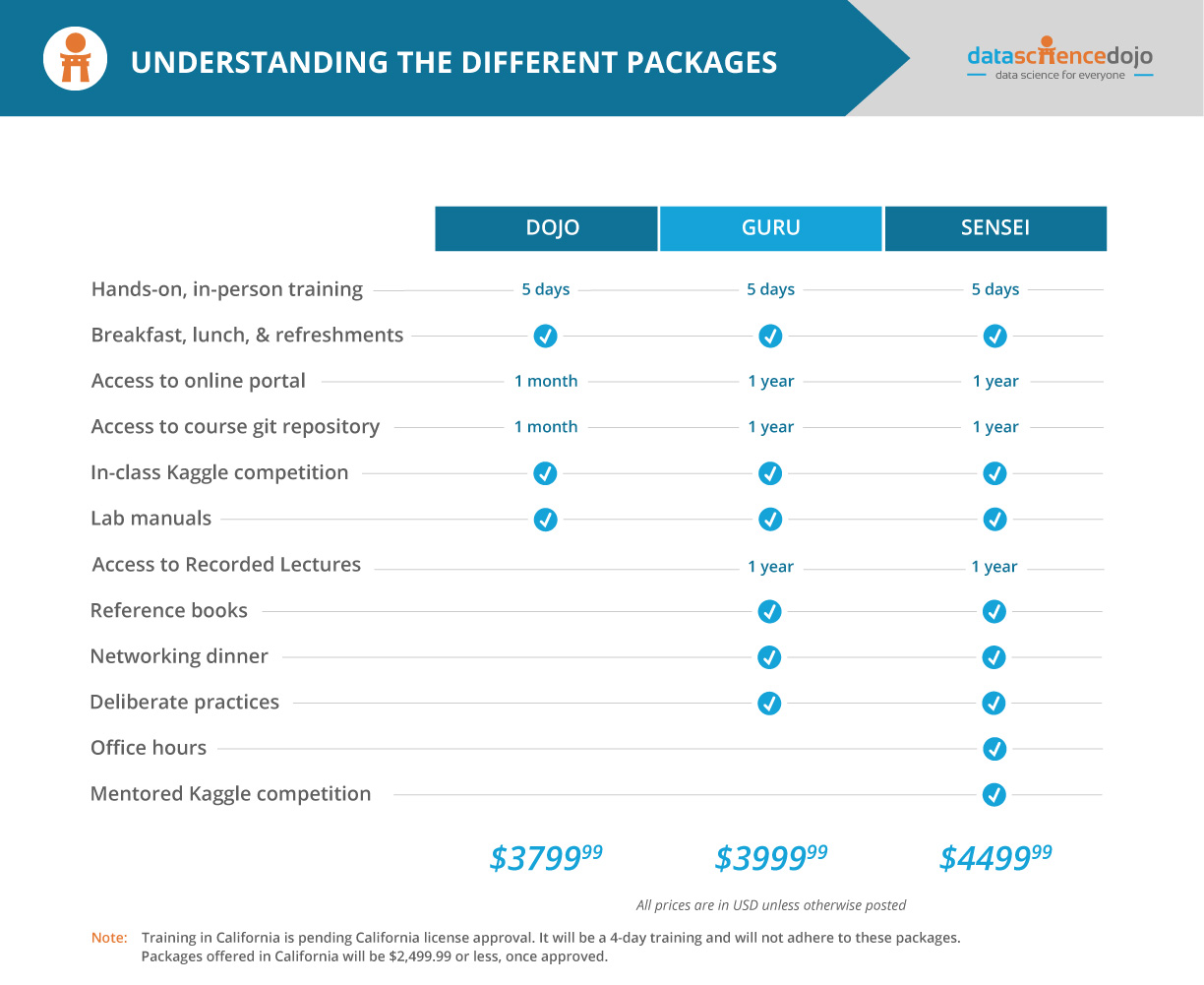 What is the in-class Kaggle competition?
During class, you will apply what you've learned each day to your predictive model. Your model will be built based on the Titanic data set.
For more information on what is Kaggle and why it is important to build your data science portfolio, check out these blogs:
Where does the networking reception take place?
This is currently unavailable.
The networking dinner typically takes place on either the Tuesday or Thursday night of the bootcamp in a reception hall or a restaurant close to the venue. Once registered, please RSVP for the networking reception to reserve your place.
This is a great time to meet some of your fellow peers, network, and blow off some steam after class! Many friendships and co-working relationships are created during the networking reception!
What are deliberate practices?
In your learning portal you will have access to tons of deliberate practices! Get access to practice exercises with different data sets in our online lab environment! Hone your new skills after the bootcamp!
What's a Jupyter Notebook and why do I need it?
A Jupyter notebook is a coding tool that allows you to write your code, run your code, and save the output in the same document. You can use Jupyter notebooks to code in R as well as Python.
Jupyter notebook allows you to divide your code into different sections known as "code-chunks". Each code chunk can be run one at a time and the corresponding code output gets saved just below that code-chunk. The output can be in any format – any data visualizations, any model summary, and any other calculations, etc. It also allows you to record your interpretations and comments in the same document.  You can save, print, and download a Jupyter notebook and share it with others.
Aren't Jupyter notebooks meant for Python? Can it run R codes?
Jupyter notebooks are fully functional with R codes as well. Yes, Jupyter notebooks come with Python as the default programming language but we can add R Kernel, which we have already done for you. So, when you launch any Jupyter notebook from your learning portal it will be able to run the R or Python code.
What's included in the office hours?
After the bootcamp, if you are struggling with any of the topics covered in the bootcamp, we can help! Students are eligible for two half-hour sessions with one of our instructors. Office hours are only for Sensei and Black Belt attendees.
Note: Office hours are limited to the bootcamp sessions. We are unable to provide assistance with specific personal work problems through this program. Students must request office hours within 14 days of the end of their respective bootcamp.
What does the mentored Kaggle competition include?
This is unavailable at this time.
Data Science Dojo attendees have the opportunity to work with industry data scientists on real-world data science problems. Follow the steps below to work with a mentor:
Requirements:
Create a team with at least 2 other bootcamp attendees
Select a Kaggle competition and make at least one kaggle submission to the project
Select your team's preferred mentors from our mentoring team 
Fill out the form below within 2 months of the bootcamp