What you receive during and post-bootcamp depends on which pricing package you purchase. We have 3 standard pricing packages for most bootcamps: Dojo, Guru, and Sensei. For more detail, you can view our pricing package comparison.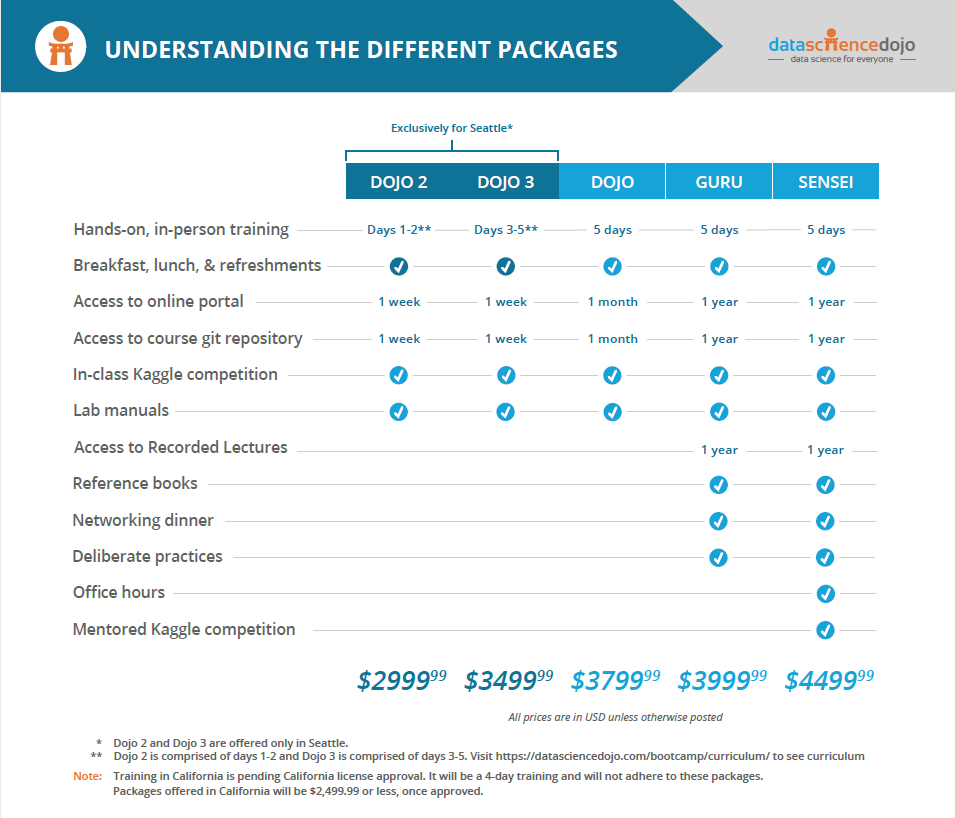 For our Seattle bootcamp, we offer Dojo2 (first two days), Dojo3 (last three days), Guru, and Sensei.
For our Toronto bootcamp, we offer 6 different packages (1 for each day of the bootcamp and 1 5-day bundle!)
To view more about each location's pricing packages you can always search at:
https://datasciencedojo.com/locations/NAMEOFLOCATION/#pricing/
What is the in-class Kaggle competition?
During class, you will apply what you've learned each day to your predictive model. Your model will be built based on the Titanic data set. Whomever has the highest accuracy predictive model at the end of the course receives a special prize! Second and third place winners also will win a prize.
For more information on what is Kaggle and why it is important to build your data science portfolio, check out these blogs:
What reference books do we receive?
All Guru or Sensei students receive the following reference books:
R for Everyone by Jared P. Lander
The Cartoon Guide to Statistics by Larry Gonick
The Master Algorithm: How the Quest for the Ultimate Learning Machine Will Remake Our World by Pedro Domingos
Where does the networking reception take place?
The networking dinner typically takes place on either the Tuesday or Thursday night of the bootcamp in a reception hall or a restaurant close to the venue. Once registered, please RSVP for the networking reception to reserve your place.
This is a great time to meet some of your fellow peers, network, and blow off some steam after class! Many friendships and co-working relationships are created during the networking reception!
Note: Networking reception is only offered to Guru and Sensei students.
What are deliberate practices?
In your learning portal you will have access to tons of deliberate practices! Get access to practice exercises with different data sets on our online lab environment! Hone your new skills after the bootcamp!
What's included in the office hours?
After the bootcamp, if you are struggling with any of the topics covered in the bootcamp, we can help! Students are eligible for two half-hour sessions with one of our instructors. Office hours are only for Sensei attendees.
Note: Office hours are limited to the bootcamp sessions. We are unable to provide assistance with specific personal work problems through this program. Students must request office hours within 14 days of the end of their respective bootcamp.
What does the mentored Kaggle competition include?
Data Science Dojo attendees have the opportunity to work with industry data scientists on real-world data science problems. Follow the steps below to work with a mentor:
Requirements:
Create a team with at least 2 other bootcamp attendees
Select a Kaggle competition and make at least one kaggle submission to the project
Select your team's preferred mentors from our mentoring team 
Fill out the form below within 2 months of the bootcamp