Once you are registered for the bootcamp, you are required to complete about 10 hours of pre-bootcamp coursework in the learning portal. It's good to run through the material at least once so you can get a feel for how prepared you will be.
Please also be sure to take your pre-bootcamp survey, and complete your pre-bootcamp checklist! Make sure you have all of the required software you need to install and bring to the training.
If you haven't already done it, please create your learning portal account first. Once you registered for the course, you will receive an email with steps to create your learning portal account which must then be activated. Please check your spam or junk folder if you cannot locate your activation emails.
Once your learning portal is activated, you should be able to see courses you're enrolled in. If you don't see any course on your dashboard, please reach out to us at [email protected]
Here is a step-by-step guide on how to create an account and log in.
However, for getting ready for your bootcamp you only need to complete the "Getting ready before the Bootcamp" section of the course.
How can I access the "Introduction to Amazon ML"?
We used to offer this course in our pre-bootcamp module, in the past. However, this course is now deprecated. We have tried our best to update all our communications, but it appears that wasn't the case, so please accept our apologies.
I have access to my learning portal but some of the links don't work.
Your learning portal packs in a lot of content. However, we don't want to overwhelm you with all the content at once. During the Pre-Bootcamp phase, we want you to focus on your bootcamp preparation. Accordingly, your access is limited to only some of the content. The content that you are not able to see and/or access has been deliberately restricted. However, the content will be available to you as we progress through the weeks.
I have completed the pre-bootcamp checklist, but I haven't received any course material.
Your bootcamp course material is hosted on a Git repository which you can very easily access on the right side tab of the course page along with other useful resources.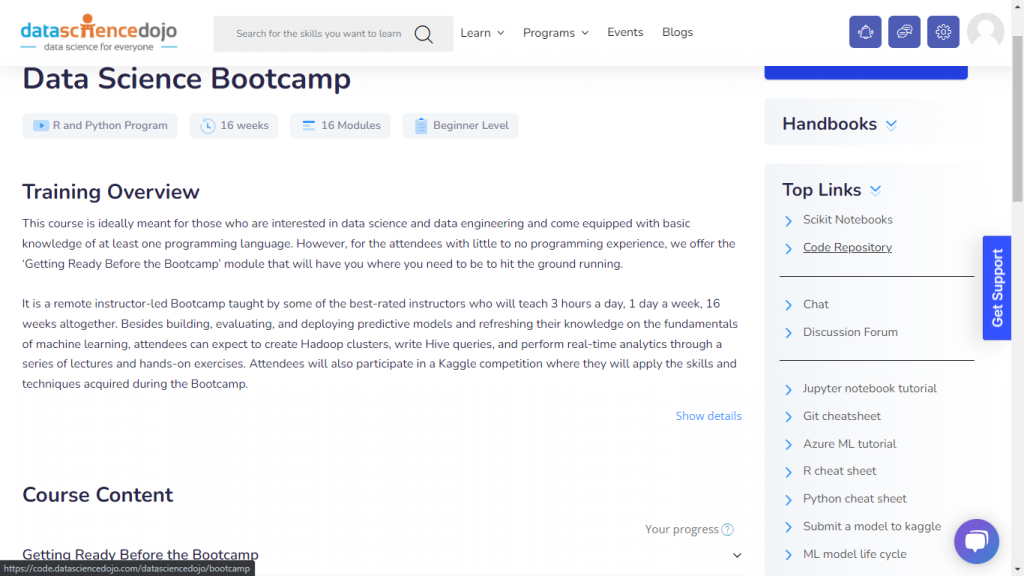 However, the content under the "Course Material Repository" is restricted during the Pre-Bootcamp phase. All the course material repository will be made available to you on the bootcamp start date.
How do I change my password in the learning portal?
You can reset your password by going to the login page here and clicking on "forgot your password" tab to request a password reset.